31
« on: November 22, 2011, 11:30:18 AM »
Thank you for a mature approach. I admit that I misunderstood your claim about EAT. However, I think I'm still missing something. As far as my understanding goes, the very same would happen on RE:


This is a direct consequence of the concept known as parallax, which is used in RET to determine the distance of stars from the Earth.

Yeah, but in your round earth diagram, you have 2 people looking at the same point. In the flat earth diagram, you have people looking in different directions and seing the same thing. I mean, if we both look in different directions, won't we see different shit?
Look, I used Mickey Earth EAT and Mickey Earth Geometry to show this same phenomenon on a Mickey Earth! Prove it's not right! I read a 150 year old book written by a con artist which proves it!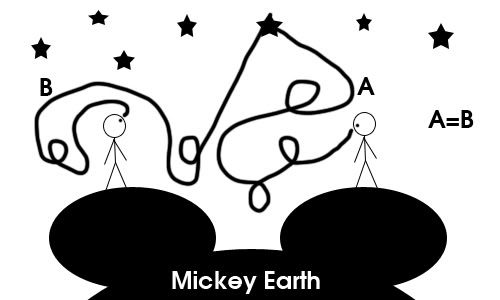 ...by the way, the whole backbone of the FE Movement is Sam Row-your-boat-entham's theory about perspective of sight. Isn't all that dependent on light NOT being "bendy?"
I mean, look. A flat earth mixed with flat earth math IS a round earth!!! It's an illusion!!!